Mini Violini – Orchestra
MINI VIOLINI 2023: ORCHESTRE DE L'AGORA, Guest orchestra

Orchestre de l'Agora
Orchestre de l'Agora (OA), under the direction of Nicolas Ellis, uses music as a tool for sustainable social change while presenting innovative and audacious concerts. Its musicians, who are young professionals from the Montreal area, are among the finest of their generation and actively take part in its social actions and outreach efforts through music.
Founded in 2013 by Nicolas Ellis, OA is focused on the core values of initiative, collaboration, commitment and boldness. These values have been reflected in the Orchestra's many undertakings over the years like Gala de la Terre pour les enfants, which raised $255,000 for environmental and humanitarian causes. On February 5, 2023, Conseil québécois de la musique awarded Orchestre de l'Agora the Opus prize for "Musical event of the year" for Gala de la Terre pour les enfants of June 22, 2022, which featured Gustav Mahler's 3rd Symphony. The Orchestra has begun a partnership with the Montreal Detention Centre in 2021-2022, to present concert-workshops for incarcerated individuals. The Orchestra's musicians, in partnership with Share the Warmth, have given music lessons and mentoring to hundreds of underprivileged children since 2013, one of the many projects OA has in the community.
Artistic projects have given the Orchestra the opportunity to join forces with such writer-composer-performers as Philippe Brach, as well as with established classical musicians like Andrew Wan (concertmaster, OSM) and Yukari Cousineau (concertmaster, OM). Some of Canada's greatest soloists — including Kerson Leong, Charles Richard-Hamelin and Marie-Nicole Lemieux — have performed with the OA. The Orchestra has recorded the Juno-nominated Viola Borealis album with violist Marina Thibeault on the ATMA Classique label. As part of its regular collaborations with Opéra de Montréal, the OA has had the opportunity to work with talented stage directors such as Sylvain Scott, François Racine and Isabeau Proulx-Lemire on innovative operatic projects, including the baroque operatic arias concert Enfers des Lumières in 2022 and Ravel's L'enfant et les sortilèges in 2023. In recent years, the OA has presented several high quality online concerts, including a holiday concert with soprano Karina Gauvin, Mahler's Des Knaben Wunderhorn, and Concert Solidaire in support of health care workers, broadcasted on ICI Radio-Canada Première.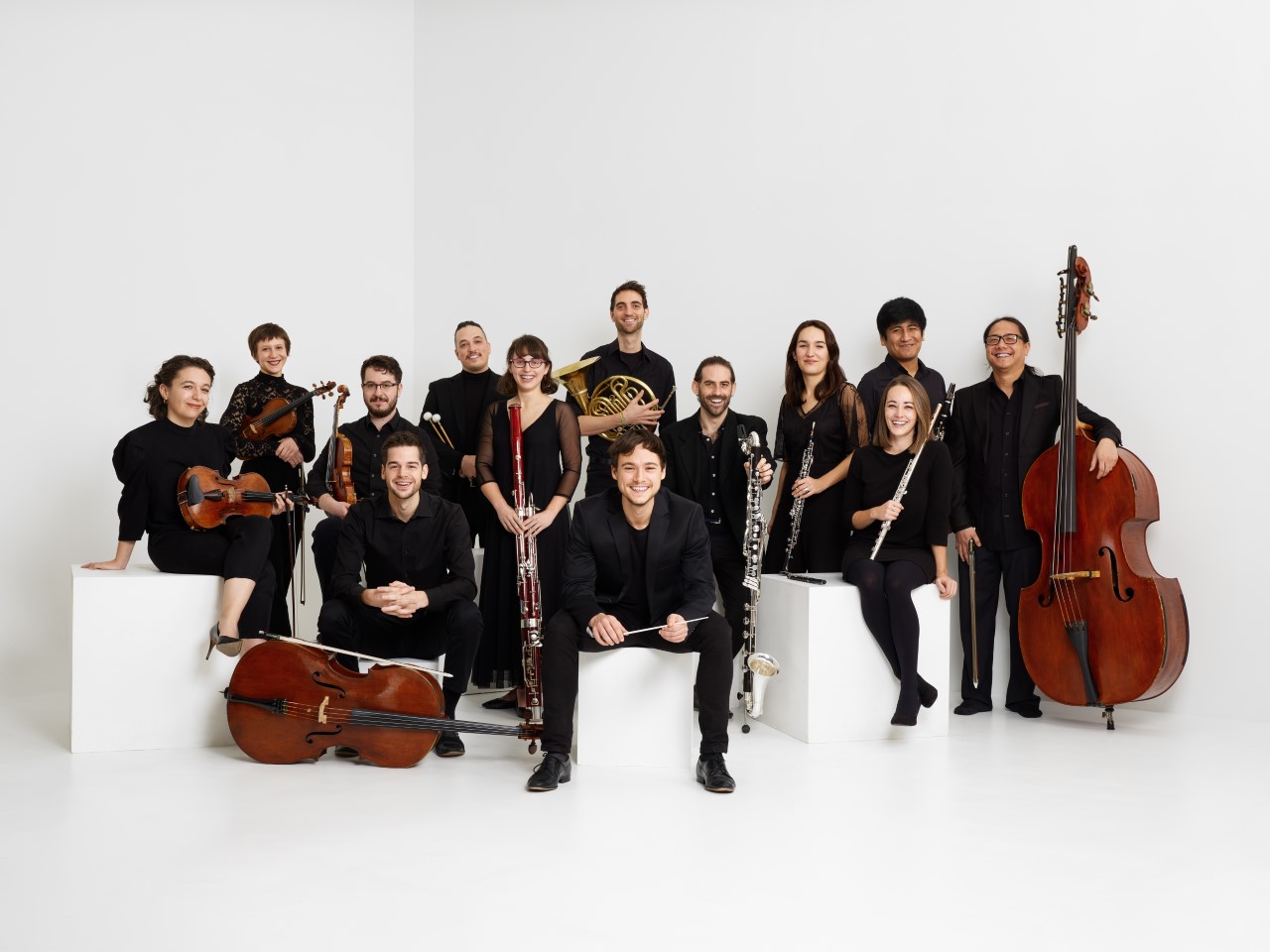 Photo credit : Nadia Zheng
Violins 1
Julien Patrice
Isaac Jobin
Veronica Ungureanu
Taylor Mitz
Violins 2
Lise-Marie Riberdy
Simon Alexandre
Yubin Kim
Maude Fréchette
Violas
Quinn Robinson
Xavier Brault Lepage
Sarah-Ève Vigneault
Cellos
Marc Labranche
Vincent Bergeron
Double basse
Sébastien Talbot
Oboes
Jean-Luc Côté
Mélissa Tremblay
Horns
Guillaume Roy
Laurence Latreille-Gagné
Harpsichord
Dorothéa Ventura