Board of Directors
Board of Directors

The members of the board of directors of the Concours musical international de Montréal are women and men from different professional backgrounds. Together, they put their personal and collective resources to work to promote the deployment of the CMIM's mission.
Officers
CHAIR
Louise Roy
Chancellor Emeritus, Université de Montréal
Chair, Cirano
VICE-CHAIR
Dr. Guy Breton
Professor Emeritus and Rector Emeritus
Université de Montréal
VICE-CHAIR
Maryse Beauregard
Multimedia producer

SECRETARY/TREASURER
Me Jacques Vincent
Partner
Gutkin Vincent Dumas S.E.N.C.R.L.
Directors
Nathalie Allen, CPA
Financial Services Director
CMIM and JM Canada
Benoît Bessette
Chief Transformation and Corporate Affairs Officer
Groupe Nutri
Danielle Champagne
Strategist in Cultural Philanthropy in Communications and Marketing 
Paul Fortin 
Artistic administrator
Jean-Jacques Laurans
President, Alfid Services Immobiliers Ltée
Luc Plamondon
Lyricist

Chantal Poulin
Executive director, CMIM
Kelly Rice
Broadcaster, producer, lecturer and consultant
François R. Roy
Corporate Director
Andrew Torriani
CEO & General Manager
The Ritz Carlton Montreal
J. Daniel Tremblay
Président, Groupe Marketex ltée
Honorary President
André Bourbeau (1936-2018)
Co-founder of the Concours musical international de Montréal, André Bourbeau was Chairman of the Board of Directors of the Concours for 15 years, but also President of its foundation and of its international jury.
André Bourbeau offered a high level international competition in Montreal. We salute his passion and commitment, which have greatly contributed to the notoriety of the CMIM.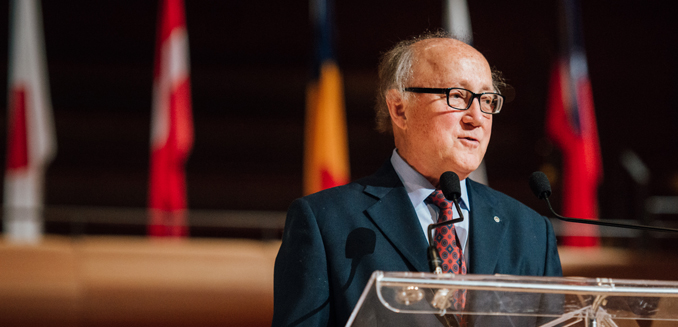 Violin 2016: André Bourbeau announces the results at the Maison symphonique de Montréal