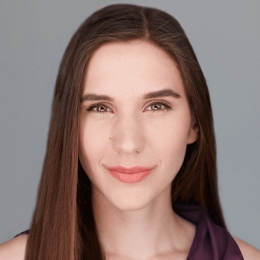 Bulgaria | Canada
02/11/1990
Voice 2022 – Aria Division
Bita Cattelan Philanthropic Engagement Award
Mezzo-soprano
2022: For Toronto-born Adanya Dunn, variety is key. The Canadian-Bulgarian mezzo-soprano is a rising figure on the world's stages, from the Santa Fe Opera and Dutch National Opera, to her upcoming debuts in Bulgaria and South Korea. Like any enthusiastic mezzo-soprano, Adanya Dunn's instrument takes her from funny femininity to trouser-role energy. She's a deft interpret of new music, with over 200 premieres in her repertoire.
Adanya Dunn is the founder of the not-for-profit Red Light Arts & Culture in Amsterdam, connecting the art scene and boosting the distinct culture of the Red Light District.
She is also a classical and electronic music composer, poet, watercolour painter and yoga teacher
Training 
2018-2021: Conservatorium van Amsterdam
2014-2016: Bard College Conservatory of Music, Master's Degree
2012-2014: University of Toronto, Master's Degree
2008-2012: University of Toronto, Bachelor's Degree
Principal Teachers
Don Marrazzo, 2018-present
Edith Bers, 2014-2018
Lorna MacDonald, 2008-2014
Prizes and Awards 
2021: Winner of three prizes, Jeunes Ambassadeurs Lyriques, Montréal
2021: Award Winner, Sylva Gelber Music Foundation Award, Canada
2019-2020: Tour Prize Winner, Grachtenfestival Competition, Netherlands
2020: Winner, Alumni Enterprise Award: Music Academy of the West, USA
2020: Classical Voice Award Winner, Hnatyshyn Foundation Developing Artist Grant, Canada
2020: Winner, Metropolitan Opera National Council Auditions, Michigan District
2015: Encouragement Award Winner, Metropolitan Opera National Council Auditions, Buffalo-Toronto District
2014: Top Graduate Award, University of Toronto
Adanya Dunn has withdrawn from the CMIM after successfully qualifying due to health reasons.
Adanya Dunn is generously sponsored by Daniel Lalonde.