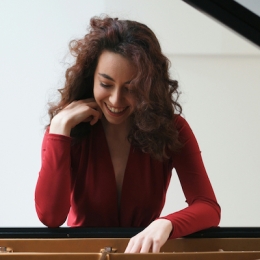 Canada
1996
Piano 2021 Edition
FINALIST
André Bourbeau Award for the best Canadian artist
André Bachand Award for the best performance of the compulsory Canadian work
About
Biography (2021)
Alice Burla, called an "extraordinary talent" by the New York Times, has performed in venues such as Carnegie Hall, Royal Concertgebouw, Teatro la Fenice, Salle Cortot and participated in festivals such as the Verbier Festival Academy, Internationale Sommerakademie Mozarteum, Paderewski Piano Academy and Hamamatsu International Academy, working with musicians like Richard Goode, Stephen Kovacevich, Gabor Tákacs-Nagy, and Sergei Babayan.
Training
2016-: Musik Akademie Basel, BMus, MMus, Claudio Martínez Mehner
2013-2016: Escuela Superior de Música Reina Sofía, Dmitri Bashkirov
2003-2008: The Juilliard School, Pre-collegial studies, Oxana Yablonskaya
Prizes and Awards
2019 : Concours international de piano Antoine de Saint-Exupéry– 3rd Prize
2019 : Royal Birmingham Piano Festival– 3rd Prize
2017: Primer Palau Competition de Palau de la Música Catalana Barcelona– 2nd Prize
Semifinal
HAYDN: Sonata in G major, Hob. XVI.6
Allegro • Minuet & Trio • Adagio • Finale (Allegro molto)
DOHNÁNYI: Three of the Six Pieces, Op. 41
Impromptu • Scherzino • Canzonetta
LIGETI: Three of the Études, Book 1
Fanfares • Cordes à vide
BARTÓK: Dance Suite, Sz. 77
Moderato • Allegro molto • Allegro vivace • Molto tranquillo • Comodo • Finale
Final
BACH: Overture in the French Style, BWV 831
Ouverture • Courante • Gavotte I & II • Passepied I & II • Sarabande • Bourrée I & II • Gigue • Écho
BURGE: Three of the Twenty-Four Preludes
Allegro energico • Spring Thaw • Off-beat Waltz
DEBUSSY: Four of the Préludes, Books I and II, L. 125 and 131
The Fairies Are Exquisite Dancers (Rapide et léger) • Ondine (Scherzando) • Minstrels (Modéré) • Fireworks (Modérément animé)
BARBER: Sonata in E-flat minor, Op. 26
Allegro energico • Allegro vivace e leggero • Adagio mesto • Fuga (Allegro con spirito)
Alice Burla is generously sponsored by Laurent Verreault.