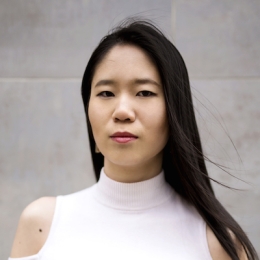 United States
1995
Piano 2021 EDITION
Bita Cattelan Philanthropic Engagement Award
About
Biography (2021)
Hailed by the Washington Post as "prodigiously gifted… a display of imagination, taste and pianistic firepower far beyond her years," Anna Han has given performances at venues such as the John F. Kennedy Center for the Performing Arts, and Alice Tully Hall. She has given world premieres for several works, among them Michael Brown's Suite for Piano (2013), which she recorded for the Steinway and Sons label. In 2014, she was named a United States Presidential Scholar in the Arts. She is currently pursuing her Master of Music degree at Juilliard. 
Training  
2014-: The Juilliard School, Robert McDonald
2001-2014: Fei Xu 
Prizes and Awards
2019: China International Music Competition – Semi-finalist
2016: Juilliard Bachauer Piano Competition – Winner
2012: New York International Piano Competition – 1st Prize 
Semi-final
BEETHOVEN: Sonata in F-sharp major, Op. 78
Adagio cantabile – Allegro ma non troppo • Allegro vivace
FAURÉ: Barcarolle No. 5 in F-sharp minor, Op. 66
BARTÓK: Three Studies, Op. 18, Sz. 72
Allegro molto • Andante sostenuto – Più mosso • Rubato – Molto sostenuto – Tempo giusto – Rubato
SCHUMANN: Sonata No. 2 in G minor, Op. 22
So rasch wie möglich • Andantino (Getragen) • Scherzo (Sehr rasch und markiert) • Rondo (Presto)
Anna Han is generously sponsored by Michel de la Chenelière.