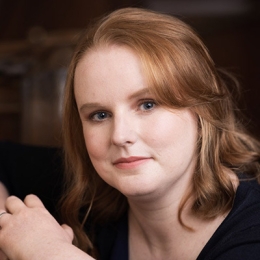 United Kingdom
25/12/1989
Voice 2022 – Art Song Division
Laureate – Maureen Forrester Second Prize
German Lied Award
soprano
2022: British soprano Harriet Burns is quickly making a name for herself as a song interpreter. She has given recitals at the venerable Wigmore Hall, as well as the Oxford Lieder Festival and the International Lied Festival Zeist. She has collaborated with acclaimed pianists Malcolm Martineau and Graham Johnson, and she sings on two of Johnson's multi-volume recordings for Hyperion, The Songs of Brahms.
Harriet Burns' took Second Prize at the Wigmore Hall/ Independent Opera International Song Competition and the Song and Recital Prizes at the International Vocal Competition's-Hertogenbosch.
Based in London, Burns is a vocal coach and voice teacher, and is on staff at the Guildhall School of Music and Drama.
Training 
2015-2018: Guildhall School of Music and Drama, Master's Degree
2018-2020: Guildhall School of Music and Drama, Artist Diploma
Principal Teachers
Professor Susan McCulloch (Artist Masters, 2015-2018)
Professor Yvonne Kenny (Opera School, Artist Diploma, 2018-2020)
Prizes and Awards
Second Prize, Wigmore Hall/Independent Opera International Song Competition
Song and Recital Prizes, International Vocal Competition 's-Hertogenbosch
Programme
FIRST ROUND
CHARLES VILLIERS STANFORD Joy, Shipmate, Joy!
(Songs of Faith, Op. 97)
ERNEST CHAUSSON Dans la forêt du charme et de l'enchantement
(2 Mélodies, Op. 36)
HANS PFITZNER Ich fürcht' nit Gespenster
(Alte Weisen, Op. 33)
CLAUDE DEBUSSY Claire de lune
(Fêtes galantes I)
FRANZ SCHUBERT Ellens Gesänge II, D. 838
FRANZ SCHUBERT Die Männer sind méchant!
(4 Refrainlieder, Op. 95, D. 866)
SEMIFINAL
ROBERT SCHUMANN Singet nicht in Trauertönen, Op. 98
FRANZ SCHUBERT Atys, D. 585
GABRIEL FAURÉ L'absent
(Trois chansons, Op. 5)
JUDITH WEIR Seranilla de la Zarzuela
(A Spanish Liederbooklet)
CAMILLE SAINT-SAËNS Tournoiement (Songe d'opium)
(Mélodies persanes, Op. 26)
JAMES K WRIGHT Quilled Sonnet
CHARLES GOUNOD Au rossignol, CG. 332
JOHANNES BRAHMS Och Moder, ich well in Ding han
(49 Deutches Volkslieder, WoO. 33)
FINAL
JOSEPH HAYDN The Mermaid's Song, Hob. XXVIa:25
ANDRÉ CAPLET Le corbeau et le renard
(Trois Fables de Jean de la Fontaine)
LEE HOIBY Jabberwocky
RICHARD STRAUSS Muttertändelei
(3 Gesänge älterer deutscher Dichter, Op. 43)
WILHELM STENHAMMAR Flickan kom ifrån sin älsklings möte
(Idyll och epigram, Op. 4)
FRANZ SCHUBERT Das Zügenglöcklein, D. 871
JUDITH WEIR Lady Isobel and the Elf-Knight
(Scotch Minstrelsy)
JAMES MACMILLAN Ballad
(Three Soutar Settings)
ANTONIN DVORAK O byl to krásny, zlaty sen
(Four Songs, Op. 2)
HUGO WOLF Waldmädchen
(Eichendorff-Lieder)

Pianist: Ian Tindale
Harriet Burns is generously sponsored by Nathalie Pratte
Donate to the CMIM