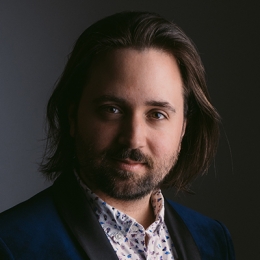 Canada
19/12/2021
Voice 2022 – Aria Division
Finalist
CMIM Grant for unranked finalists
Baritone
2022: Born in Québec City, baritone Hugo Laporte has a warm relationship with Canada's opera and classical music audiences. His steady presence at l'Opéra de Québec includes leading roles in The Elixir of Love, The Barber of Seville, and Werther. Laporte sang Mercutio in Roméo et Juliette at l'Opéra de Montréal, Escamillo in Opéra du Royaume's Carmen, and performed the title role of The Phantom of the Opera in concert performances in Montréal and Québec. 
In 2014, Laporte won both the OSM Competition and the Canadian Music Competition. He received the Teatro alla Scala Prize at the 2019 Belvedere Singing Competition, earning him a Milan debut in 2023. 
Training 
2012-2021: Université Laval, Master's Degree 
Principal Teachers 
Patricia Fournier, 2012-2018

 

Ghinka Radilova, since 2018

 
Prizes and Awards 
2019: Award

Teatro alla Scala

, Belvedere Singing Competition

 

2014: Grand Prize and 1

st

Prize Voice, OSM Competition

 

2017: Prize for Art Song and Lied, and 3rd Prize,

Concours Prix d'Europe

 

2015: 3

rd

Prize in Art Song, Marmande International Singing Competition

 

2015:

Jeune espoir lyrique canadien

Award, Young Lyrical Ambassadors

 

2014: First Place Winner, Canadian Music Competition

 
Programme
FIRST ROUND
AMBROISE THOMAS O vin, dissipe la tristesse
(Hamlet) 
PIOTR ILITCH TCHAIKOVSKY Vy tak pechalny … Ya vas lyublyu
(The Queen of Spades)
GAETANI DONIZETTI Cruda, funesta smania … La pietade in suo favore
(Lucia of Lammermoor)
SEMIFINAL
ERICH WOLFGANG KORNGOLD Mein Sehnen, mein Wähnen
(The Dead City)
CHARLES GOUNOD Ô sainte médaille… Avant de quitter ces lieux
(Faust)
GIUSEPPE VERDI Son io, mio Carlo… Per me giunto… O Carlo, ascolta… Io morrò
(Don Carlo)
FINAL
GIUSEPPE VERDI Alzati … Eri tu che macchiavi quell'anima
(A Masked Ball)
 PIOTR ILITCH TCHAIKOSVKY Vy tak pechalny … Ya vas lyublyu
(The Queen of Spades)
GIAOCHINO ROSSINI Largo al factotum
(The Barber of Seville)
Hugo Laporte is generously sponsored by Denise & Jean Gagnon.