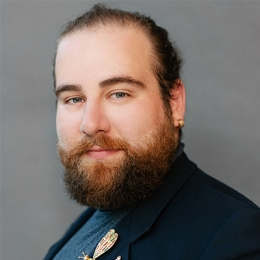 Canada
27/08/1994
Voice 2022 – Art Song Division
Baritone
2022: Across the country, Canadian classical music circles are turning their ears toward baritone Jonah Spungin. The Ottawa native is ready to demonstrate his knack for musical storytelling at Voice 2022.
After earning two degrees at McGill University, Jonah Spungin was an Emerging Artist with Calgary Opera before joining the Canadian Opera Company's coveted Ensemble Studio program. Spungin kicked off this season with Gianni Schicchi at the COC, and he'll return to the company for their upcoming productions of La traviata and The Magic Flute.
When he's not singing, he's known to strum a guitar, beatbox, and use his baritone voice for enthusiastic pop music covers.
Training 
2016-2018: McGill University, Master's Degree
2012-2016: McGill University, Bachelor's Degree
Principal Teachers
Wendy Nielsen: 2020-present
Dominique Labelle: 2016-2020
Winston Purdy: 2012-2016
Prizes and Awards 
2018: 2nd prize, OCS New Discoveries Competition
2018: Recipient of Chinese Concert Prize Jeunes Ambassadeurs Lyriques International Competition
Schulich Scholarship, McGill University
Programme
FIRST ROUND
FRANZ SCHUBERT An die Leier, D. 737
GERALD FINZI To Lizbie Browne
(Earth and Air and Rain)
CAMILLE SAINT-SAËNS Danse macabre, Op. 40
SERGEI RACHMANINOV Vesennie vody
(12 Romances, Op. 14)

Pianist: Jack Olszewskie
Jonah Spungin is generously sponsored by Laurent Verreault.