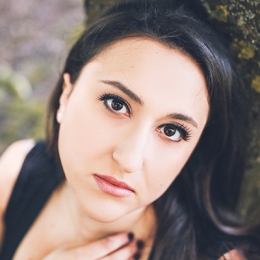 USA | United Kingdom
04/09/1989
Voice 2022 – Aria Division
Soprano
2022: Born in London, England, American-British lyric-dramatic coloratura soprano Julia Sitkovetsky comes to the Concours ready to move us with extreme high notes and her acclaimed agility.
Sitkovetsky has made a name for herself as the Queen of the Night from Mozart's The Magic Flute, a signature role she has sung on stages in Dresden, Düsseldorf, Glasgow, and Berlin. This season marks her debut at the Komische Oper in Berlin, and she returns to the Semperoper Dresden and Deutsche Oper am Rhein.
Recently released on Chandos, Sitkovetsky's latest album, Where Corals Lie, features songs by Edward Elgar. She was a Paris Opera Competition finalist, a Belvedere Competition semifinalist, and the 2017 winner of the Prix spécial at the International Clermont-Ferrand Competition.
Training 
2012-2014: Guildhall School of Music and Drama, Master's Degree
2009-2012: University of Oxford, Bachelor's Degree
Principal Teachers
Marie McLaughlin, 2014-present
Susan McCulloch, 2009-2014
Prizes and Awards
2017: Winner of Special Jury Prize, Clermont-Ferrand Competition, France.
2014: Winner of Sybil Tutton Opera Award, Help Musicians UK
2014: First Prize Winner, Dean & Chadlington Competition, UK
Julia Sitkovetsky has withdrawn from the CMIM after successfully qualifying, due to health reasons.
Julia Sitkovetsky is generously sponsored by Pascal Lépine.