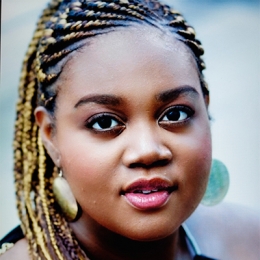 Cameroon | Canada
17/02/1989
Voice 2022 – Art Song Division
soprano
2022: Born in Cameroon, Canadian soprano Monika Mazanka traces back her love of music to singing in her family's church choir. Along with studies in microbiology, the full-voiced soprano pursued music at the Conservatoire de musique de Montréal. As she does in roles like the Countess in The Marriage of Figaro and Proserpina in L'Orfeo, Mazanka brings to Voice 2022 her rich sound and stage magnetism.
Based in Montréal, Monika Mazanka was a semifinalist at the 2014 OSM Standard Life Competition, and received bursaries from the Jacqueline Desmarais Foundation, the Orford Academy, and JM Canada. In 2017, Mazanka won the 375th City of Montréal prix special from the non-profit organization Racines Croisées.  
Training 
2015-2016: Université de Montréal
2010-2015: Conservatoire de musique de Montréal
Principal Teacher
Prizes and Awards 
2013: 1st place Voice, Canadian Music Competition
Scholarship from the Orford Music Academy
Scholarship from the Jacqueline Desmarais Foundation
JM Canada Scholarship
2017: Special prize for the 375th of the city of Montreal by the organization Racines Croisées
Prize of the Conservatoire de musique de Montréal
Programme
FIRST ROUND
FRANZ SCHUBERT Gretchen am Spinnrade, Op. 2, D. 118
ERNEST CHAUSSON Les papillons • Hébé
(Sept mélodies, Op. 2) 
MOSES HOGAN (arr.) Deep River • Sometimes I Feel Like a Motherless Child 

Pianist: Romain Pollet
Monika Mazanka is generously sponsored by the Jeanne Wojas & Robert Chevrier Foundation.