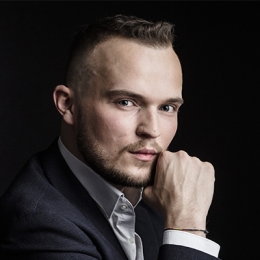 Germany
12/07/1993
Voice 2022 – Aria Division
Finalist
ICI Musique People's Choice Award – Aria
CMIM Grant for unranked finalists 
Countertenor
2022: German countertenor Nils Wanderer is an ambitious, fast-rising star in the international worlds of opera and classical music. Also a conductor and flautist, he is artistic director of the baroque music and dance ensemble, Meridies.
Wanderer's operatic roles range from Handel's Julius Caesar to The Boy in the acclaimed opera by George Benjamin, Written on Skin. Wanderer has performed on some of the world's most prestigious stages, including Wigmore Hall, the Vatican, and the Royal Chapel of the Palace of Versailles.
This season Wanderer will perform L'Orfeo with De Nederlandse Reisopera, A Midsummer Night's Dream in Stuttgart, and a tour of Bach's St. Matthew Passion to Barcelona, Versailles, and Paris.
Training 
Guildhall School of Music and Drama in London
Principal Teachers
Professor Edith Wiens
Professor Andrew Watts
Professor Siegfried Gohritz
Prizes and Awards 
2021: Winner, International Anton Rubinstein Competition Voice 2021
Winner of the First prize and Gold Medal for Outstanding Performance as First Countertenor, International World Asia Singing Competition
First Prize and Audience Prize, Singing Competition of the Händel Festival in Karlsruhe
Golden Culture Award of Stuttgart
Programme
FIRST ROUND (with piano)
GEORGE FRIEDERICH HÄNDEL Stille amare
(Tolomeo)
BENJAMIN BRITTEN I know a bank
(A Midsummer Night's Dream)
CLAUDIO MONTEVERDI Oblivion soave
(The Coronation of Poppea)
SEMIFINAL
GEORGE FRIEDERICH HÄNDEL Cara sposa
(Rinaldo)
JOHANN SEBASTIAN BACH Es ist vollbracht
(St. John Passion BWV 245m)
HENRY PURCELL Cold Song
(King Arthur)
FINAL
EDWARD ELGAR Sea Slumber Song
(Sea Pictures, Op. 37)
WOLFGANG AMADEUS MOZART Venga pur minacci e frema
(Mithridates, King of Pontus)
GEORGE FRIEDERICH HÄNDEL Pena tiranna
(Amadis of Gaul)
Nils Wanderer is generously sponsored by Mimi Lépine & André Dubois.