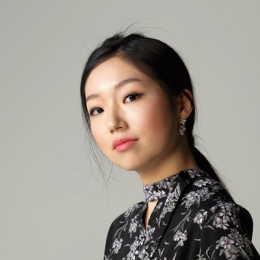 South Korea
1994
Piano 2021 Edition
FIRST PRIZE
About
Biography (2021)
South Korean pianist Su Yeon Kim has been described by the press as having "a remarkably sophisticated technique with incredibly detailed articulation and miniature values". As performer she appeared in Herkulessaal Munich, Great-Hall in Budapest Liszt Academy, Grosser Saal Salzburg, Auditorium Gaber Milano and Kennedy Center Washington D.C. among many others.
김수연«
대한민국 피아니스트 김수연은 "주목할 만한 세련된 테크닉과 놀라울 정도로 섬세한 아티큘레이션과 미니어쳐 벨류(miniature values) 를 가진" 연주자로 평가된다. 뮌헨의 Herkulessaal, 부다페스트 리스트 아카데미의 Great-Hall, 잘츠부르크의 Grosser Saal, 밀라노의 Auditorium Gaber 그리고 워싱턴 디씨의 Kennedy Center 에서 연주한 바 있다. 
Site Web
suyeonkimpianist.com
Training
2013–: Mozarteum University Salzburg, Baccalauréat et maîtrise, Pavel Gililov
2011–: private classes, Paul Gulda
2007-2011: Korean Institute for the Gifted in Arts, Choong-Mo Kang
Prizes and Awards
2014: Johann Nepomuk Hummel International Piano Competition – 1st Prize
2018: Hastings International Piano Concerto Competition – 2nd Prize
2018: Alaska International e-Piano Competition – 3rd Prize
Semi-final
BACH: Italian Concerto (Concerto in the Italian taste), BWV 971
Allegro • Andante • Presto
CHOPIN: Ballade No. 4 in F minor, Op. 52
CHOPIN: Nocturne No. 2 in F-sharp minor, Op. 48
CHOPIN: Scherzo No. 3 in C-sharp minor, Op. 39
PROKOFIEV: Sonata No. 3 in A minor, Op. 28
Allegro tempestoso • Moderato • Allegro tempestoso • Moderato • Più lento • Più animato • Allegro I • Poco più mosso
Final
BEETHOVEN: Sonata No. 30 in E major, Op. 109
Vivace, ma non troppo – Adagio espressivo – Tempo I • Prestissimo • Andante molto cantabile ed espressivo
SCRIABIN: Sonata No. 2 in G-sharp minor, Op. 19 (Sonata Fantasy)
Andante • Presto
BURGE: Three of the Twenty-Four Preludes
Allegro energico • Spring Thaw • Off-beat Waltz
RAVEL: Gaspard de la nuit, M. 55
Ondine • Le Gibet • Scarbo
Su Yeon Kim is generously sponsored by the Fondation Jeanne Wojas – Robert Chevrier.