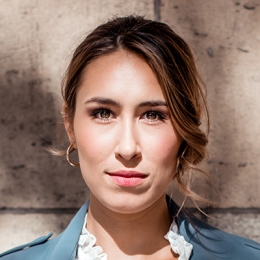 Germany
10/05/1996
Voice 2022 – Aria Division
Laureate – Third Prize
Mezzo-soprano
2022: Based in Düsseldorf, German mezzo-soprano Valerie Eickhoff is a competitor with a relatively fresh experience on the operatic stage. This season with the Deutsche Oper am Rhein, she makes six role debuts, including beloved pants roles Cherubino in The Marriage of Figaro and Hänsel in Hänsel und Gretel. As a member of the Deutsche Oper am Rhein Studio, Eickhoff also sang Rosina in The Barber of Seville and Annina in La traviata. Last season, she made her debut at the Tyrolean Festival Erl, in Humperdinck's Königskinder (King's Children).
Valerie Eickhoff was a semifinalist at the 2019 Neue Stimmen competition and the 2020 Glyndebourne Opera Cup.
Training 
2014-2020: Düsseldorf, Germany, Master's Degree
Principal Teachers
Prizes and Awards 
2022: Winner of the competition, the Audience Prize, the Emmerich Smola Prize, and the Deutsche Radio Philharmonie Orchestra Prize, Südwestrundfunk Junge Opernstars Competition
2021: 3rd prize, ARD competition
Scholarship from the Wagner Association Düsseldorf
Scholarship from the Yehudi Menuhin foundation "Live Music Now"
Programme
FIRST ROUND (with piano)
JOHANN SEBASTIAN BACH Es ist vollbracht
(St-John's Passion BWV 245)
WOLFGANG AMADEUS MOZART Non so più
(The Marriage of Figaro) 
GIAOCHINO ROSSINI Una voce poco fa
(The Barber of Seville)
SEMIFINAL
GEORGE FRIDERIC HANDEL Crude furie degli orridi abissi
(Serse)
GIAOCHINO ROSSINI Assisi a pie d'un salice 
(Otello)
GIACOMO MEYERBEER Nobles seigneurs, salut ! 
(Les Huguenots)
FINAL
WOLFGANG AMADEUS MOZART Deh, per questo istante solo
(The Clemency of Titus)
JACQUES OFFENBACH Vois sous l'archet frémissant
(The Tales of Hoffmann)
GIAOCHINO ROSSINI Una voce poco fa
(The Barber of Seville)
Valerie Eickhoff is generously sponsored by François Godbout.