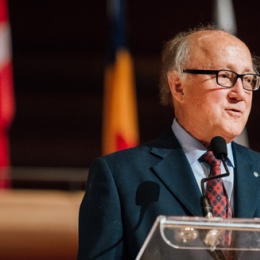 Canada
President of the jury – 2002 à 2017
André Bourbeau and Joseph Rouleau were true music fans. Their infectious ambition led to the creation of the Concours musical international de Montréal (CMIM) in 2001.
André Bourbeau's determination was matched only by his enthusiasm. His efforts not only helped bring an international-calibre competition back to Montreal, they also ensured its development and its sustainability. As a result, since 2002, Montrealers and the world's music-lovers have been given the opportunity to witness young musicians' careers take flight.
CMIM co-founder André Bourbeau was the chairman of its board of directors from 2001 to 2018 and of its foundation from 2007 to 2018, while at the same time assuming the delicate role of jury president for annual editions of the competition from 2002 to 2017.
André Bourbeau spearheaded several large-scale cultural projects. His social contribution was often recognized and acknowledged. In 2009, he was appointed a Knight of the National Order of Quebec; in 2015, the Conseil des arts de Montréal honoured him with the Arts-Business Personality Award at the Prix Arts-Affaires; and in 2016, he was named an Officer of the Order of Canada. In 2018, the building housing the offices of Jeunesses Musicales Canada and those of the CMIM was named after him.
André Bourbeau pursued his career as a notary until 1981. As a leading businessman and politician, he held several managerial positions, including that of Mayor of Saint-Lambert and member for the electoral district of Laporte in the National Assembly of Quebec from 1981 to 2003, where he also held several important ministerial posts from 1985 to 1994.