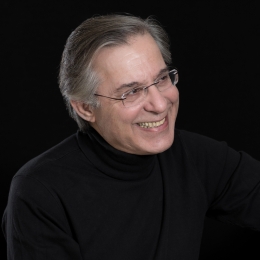 Brazil/USA
Brazilian-born pianist Arnaldo Cohen, now living in the United States, has long had a reputation for astonishing his audiences with the musical authority and blistering virtuosity of his performances. He came to prominence after winning First Prize at the 1972 Busoni International Piano Competition and making his debut at the Concertgebouw in Amsterdam. Since then, he has been in demand internationally, appearing with such major orchestras as the Philadelphia, Philharmonia, and Cleveland Orchestras; Chicago Symphony; and Los Angeles and London Philharmonics.  
As a former professional violinist, teacher of physics, mathematician, cocktail pianist, and avid soccer fan, Mr. Cohen's unconventional background contributed to the aura of surprise and discovery that attended virtually every one of his public performances. Long in demand internationally, Mr. Cohen has, in the past few years, entered a rarefied echelon among performers in America as well. Arnaldo Cohen's solo recitals everywhere draw enthusiastic crowds of cognoscenti.  His recent recordings include the Liszt and Rachmaninov piano concertos with the Sao Paulo State Symphony Orchestra, an all-Liszt solo disc, and his pioneering CD Three Centuries of Brazilian Music. Critics, too, marvel at his mixture of musical complexity and élan. 
He currently holds a full professorship at the Jacobs School of Music at Indiana University, having previously taught at the Royal Academy of Music.