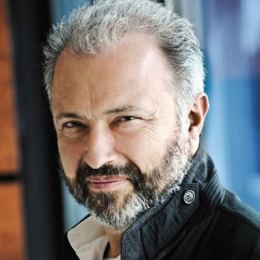 United Kingdom - United States
A renaissance man and a magnetic creative force, Dmitry Sitkovetsky has made a considerable impact on every aspect of musical life and has been successful as a performer, creator and facilitator for over four decades. His enviable career as a violin soloist is documented in several dozen recordings of all major concertos and a wide selection of chamber repertoire.  
 Sitkovetsky's name has become synonymous with the art of transcription. His iconic orchestra and string trio versions of the Goldberg Variationshave taken on a life of their own, enjoying regular performances and acclaimed recordings by the world's top musicians.  Inspired by its unqualified success, Maestro went on to arrange over 50 works by Haydn, Beethoven, Brahms, Bartók, Tchaikovsky, Shostakovich, Stravinsky, and Schnittke. His discography includes works by Prokofiev, Bartok, Shostakovich, as well s Dutilleux's L'Arbre des Songes, recorded with the London Symphony, Philharmonia, and the Royal Concertgebouw orchestras, in collaboration with Sir Yehudi Menuhin, Mariss Jansons, Sir Colin Davis, Sir Neville Marriner, and other legendary musicians.   
As a conductor, Sitkovetsky has held artistic leadership positions with the Ulster Orchestra, the Russian State Orchestra, and Orquesta Sinfonica de Castilla y Leon. In 1990, he founded the New European Strings orchestra (NES), bringing together the most distinguished string players from the top European ensembles for special touring and recording projects, most recently at the Enescu Festival. As a guest conductor, Sitkovetsky has collaborated with San Francisco Symphony, Minnesota Orchestra, London and Royal philharmonic orchestras, NDR Hannover, Ensemble Orchestral de Paris, Moscow Philharmonic, Tokyo Metropolitan Orchestra, China Philharmonic, and Shanghai Symphony, among others.   
Sitkovetsky has also been invited to create, develop and lead a number of festivals throughout his career, most notably the Korsholm Music Festival in Finland in the 1980's, the Seattle International Music Festival and the Silk Route of Music Festival in Baku in the 1990's, as well as the Festival del Sole in Tuscany, where his NES orchestra was in residence from 2003 to 2006.