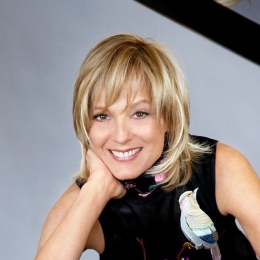 Canada
Montreal-born Hélène Mercier began studying piano at the age of six and soon went on to win first prizes in several national competitions. She is also a laureate of the International Chamber Music Competition in Prague.
At the age of fifteen, she entered Dieter Weber's class at Vienna's University of Music and Performing Arts before furthering her studies at the Juilliard School in New York with Sascha Gorodnitzki. She later went to France to study with Pierre Sancan and Germaine Mounier. 
Hélène Mercier has appeared at a number of festivals, including Aix-en-Provence, Menton, Colmar, Nohant, Evian, Reims, Piano aux Jacobins, La Chaise-Dieu, and Radio-France in Montpellier. She is also regularly heard on France-Musique, Radio Classique, France-Culture, and Radio Suisse-Romande, as well as on Radio-Canada, and on CBS in the United States.
She also regularly performs with orchestras in Europe, the United States, and Canada. These include the National Philharmonic of Russia under the direction of Vladimir Spivakov, the Prague Philharmonia, the RAI National Symphony Orchestra, and the orchestras of Vancouver, Toronto, Ottawa, and Montreal under the direction of Charles Dutoit, Trevor Pinnock, and Long Yu. She has also performed in Tokyo with the New Japan Philharmonic under the direction of Seiji Ozawa. In Paris, she appeared under the direction of Zubin Mehta with the Israel Philharmonic Orchestra, under the direction of Kurt Masur with the Orchestre de Paris at Théâtre des Champs-Elysées, and under the direction of Semyon Bychkov, with whom she performed Beethoven's Triple Concerto with Natalia Gutman and Salvatore Accardo. She has recorded with the BBC Philharmonic under the direction of Edward Gardner and with the Bergen Philharmonic Orchestra conducted by Neeme Järvi, as well as with Sir Andrew Davis.
She regularly performs with Vladimir Spivakov, Renaud Capuçon, Ivry Gitlis, Laurent Korcia, Gautier Capuçon, Henri Demarquette, Truls Mørk, Boris Berezovsky, Frank Braley, Cyprien Katsaris, Louis Lortie, and Brigitte Engerer, who was one of her regular partners.
She has made several recordings with Louis Lortie for the Chandos label, featuring works by Ravel, Mozart, Schubert, Poulenc, Rachmaninoff, and Saint-Saëns, all of which have been highly acclaimed around the world. London's Gramophone magazine rated the duo among the "Top Six" in their Quarterly Retrospect, as well as selecting them as an Editor's Choice; the Penguin Guide awarded them its highest distinction, "The Rosette." They have recently recorded Vaughan Williams' Concerto for Two Pianos with the Bergen Philharmonic Orchestra, under the direction of Sir Andrew Davis, which will be released in 2017.
With Vladimir Spivakov, she recorded a CD devoted to Ernest Chausson for Capriccio. The recording met with considerable success among both critics and the public, and was named a "Choc" by Le Monde de la Musique. With Cyprien Katsaris, she recorded a CD featuring works by Schumann and Brahms.
Hélène Mercier is a Chevalier of the Ordre des Arts et des Lettres.