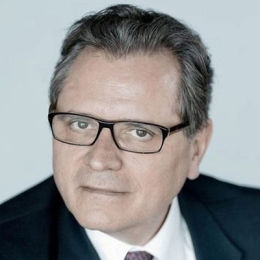 Switzerland
Michael Haefliger has been involved with major European festivals throughout his career, initially as an active performing artist and, since 1999, as the Executive and Artistic Director of Lucerne Festival. His career as a solo violinist included engagements in the early 1980s at such festivals as those in Lucerne, Interlaken, and Spoleto. In 1986 he co-founded the Young Artists in Concert Festival in Davos, where he served as director until 1998.From 1996 to 1998 he was moreover Artistic Director of the program of the Collegium Novum Zürich.
Born in Berlin in 1961, Michael Haefliger began studying the violin and piano at the age of six; in 1983 he completed his violin studies at the Juilliard School of Music in New York, graduating with a Bachelor of Music degree. He went on to study management at the Schools of Business, Law, and Social Sciences at St. Gallen University, earning an Executive MBA in 1999. In 2003 Haefliger received a scholarship (through the Harvard Club of Switzerland) to attend the General Manager Program at Harvard University. Haefliger serves as a board member on international organizations; in January 2000 he was named "Global Leader for Tomorrow" by the World Economic Forum in Davos. 2003 he also received the European Cultural Innovation Award, and, in 2007, the Tourism Award from the Lucerne Tourism Forum. In 2014 he garnered the Cultural Award of Central Switzerland and was additionally given the Badge of Honor of the City of Lucerne and the Swiss Society of New York Award.
Currently Haefliger serves as the Executive and Artistic Director of Lucerne's three annual festivals: the Easter Festival, the Summer Festival, and the Piano Festival. He is a board member of the Avenir Suisse Foundation, the Davos Festival Foundation, the UBS Cultural Foundation, and the Pierre Boulez Foundation. He is also Chairman of the Jury for the Credit Suisse Young Artist Award.