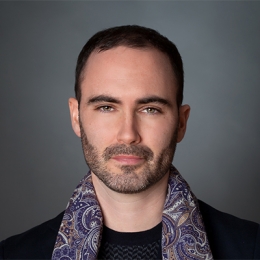 Canada / Germany
Renaud Loranger was appointed Vice President for Artists and Repertoire at Pentatone in 2016, and has since overseen a vast expansion of the record label's roster and international activities. Artists and partnerships signed during his tenure include conductors Vladimir Jurowski, René Jacobs and Esa-Pekka Salonen, singers Piotr Beczala, Lisette Oropesa, Javier Camarena and Magdalena Kožená, pianists Pierre-Laurent Aimard and Francesco Piemontesi, as well as the Gewandhausorchester Leipzig and the Czech Philharmonic.
Prior to that, he was Executive Producer in the Artists and Repertoire division at Deutsche Grammophon starting in 2011. He oversaw opera productions and recordings of such vocal luminaries as Anna Netrebko, Elina Garanca, Piotr Beczala, Franco Fagioli, and Bryn Terfel, as well as conductors René Jacobs and Yannick Nézet-Séguin. In parallel, he added responsibility for the label's Archiv Produktion imprint in 2013, and for Deutsche Grammophon France in 2015.
In November 2018, Loranger became Artistic Director of the Festival de Lanaudière – in his hometown, Joliette – where he was first exposed to music in his childhood. He very quickly re-established Lanaudière as the pre-eminent classical festival in Canada, and one of a handful of international hubs in North America. In addition, he regularly sits on the juries of international voice competitions.
Renaud Loranger studied musicology, art history and comparative literature at Université de Montréal before working at various levels for boutique classical management agencies. Upon relocating to Berlin in 2010, he contributed arts coverage to the Financial Times, WFMT-Chicago, CBC Radio and La Presse (Montréal). Following a stint in the editorial department of the Orchestre symphonique de Montréal under the leadership of Kent Nagano, he was an assistant to Patrice Chéreau on Janáček's From the House of the Dead at the Metropolitan Opera. He was a founding member of the European Opera Think Tank, a joint initiative of Gerard Mortier and Opera Europa.

Participation generously supported by the Canimex Group.