Tributes – Piano 2021
Tributes to deceased pianists with Lorraine Desmarais

The Concours musical international de Montréal and internationally renowned jazz pianist and composer Lorraine Desmarais pay tribute to two great pianists who died in recent months.
Lorraine Desmarais
Pianist and composer Lorraine Desmarais is known in Canada, the USA, Europe, Mexico, China, Indonesia and Africa for her solo, trio and big band performances. She has also appeared with many symphony orchestras. She has twelve albums of original compositions. Three of these albums (Trio Lorraine Desmarais , Jazz pour Noël and Big Band) have received FÉLIX awards at the Gala de ADISQ. In 2011, she received a Doctorat Honoris Causa from the Université du Québec à Montréal (UQÀM). In 2013, she was awarded by becoming Member of the Order of Canada. Lorraine Desmarais played in concert with artists of worldwide renown such as, Chick Corea, Oliver Jones, Jacky Terrasson, Joe Lovano, The New York Diva Big Band, the Brubeck Brothers and Paquito D'Rivera. 
André Gagnon (1936-2020)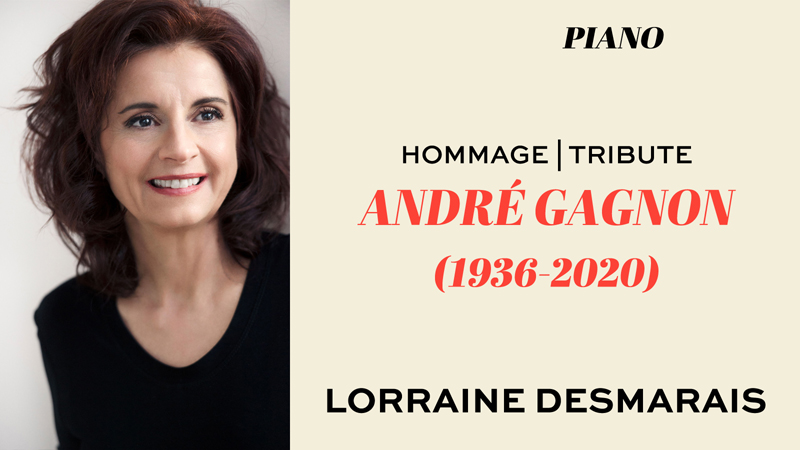 André Gagnon
André Gagnon, O.C., O.Q., pianiste, compositeur, chef d'orchestre, arrangeur, acteur (né le 2 août, à Saint-Pacôme-de-Kamouraska, au Québec; décédé le 3 décembre 2020). André Gagnon était reconnu pour son mélange éclectique de musique classique et pop. Il a travaillé comme accompagnateur, chef d'orchestre ou arrangeur pour certains des plus grands chansonniers du Québec, avant de poursuivre une carrière de soliste. Ses compositions couvrent une grande variété de styles musicaux et elles étaient particulièrement populaires au Japon. Il a remporté des prix Juno pour ses albums Saga(1974) et Neiges (1975), ainsi que pour meilleur instrumentaliste (19 977 et 1995). Il a reçu le prix Félix pour l'album instrumental de l'année à douze reprises entre 1978 et 2017, et on lui a décerné le prix William Harold Moon de la SOCAN pour sa contribution à la musique canadienne. Il a été nommé Officier de l'Ordre du Canada, et Officier de l'Ordre national du Québec. (L'Encyclopédie canadienne)
Chick Corea (1941-2021)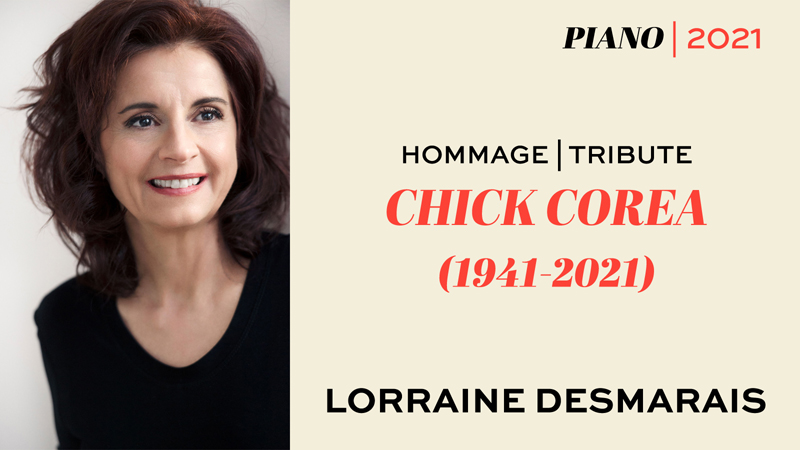 Chick Corea
A DownBeat Hall of Famer and NEA Jazz Master, 23-time Grammy winner, and keyboard virtuoso, Chick Corea has attained living legend status after five decades of unparalleled creativity and an artistic output that is simply staggering. Chick is the fourth-most-nominated artist in the history of the Grammys, with 65 nominations. He's also earned 3 Latin Grammy Awards, the most of any artist in the Best Instrumental Album category. From straight ahead to avant-garde, bebop to fusion, children's songs to chamber music, along with some far-reaching forays into symphonic works, Chick has touched an astonishing number of musical bases in his illustrious career while maintaining a standard of excellence that is awe-inspiring.