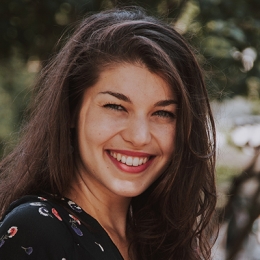 Canada
29/03/1998
Voice 2022 – Aria Division
Soprano
2022: Raised in Gatineau, soprano Sophie Naubert made a notable soloist debut with the Orchestre Métropolitain at the age of 23, singing under conductor and Music Director of The Metropolitan Opera and the Orchestre Métropolitain, Yannick Nézet-Séguin.
Sophie Naubert studied at the Conservatoire de musique de Montréal before beginning a master's degree at the Hochschule für Musik Hanns Eisler in Berlin. In 2021, she became a Jeune Ambassadrice Lyrique, took first prize in both the Sherbooke and Hal Leonard Music Competitions, and placed third in the OSM Competition.
Alongside operatic roles like Ilia in Idomeneo and Belinda in Dido and Aeneas, Naubert finds a vocal fit in art song. A composer herself, she wrote two works for voice and piano: Les trois moitiés d'une planète and The Lost Child: A 12-Tone Serial Song.
Training 
2021-present: Hochschule für Musik Hanns Eisler, Master's Degree
2017-2021: Conservatoire de musique de Montréal, Bachelor's Degree
Principal Teachers
Anna Samuil, 2021
Aline Kutan, 2017-2021
Renée Lapointe, 2015-2017
Prizes and Awards 
2021: 3rd prize, OSM Competition
2021, 2rd prize, Concours de musique de Sherbrooke
2021: 1st prize, Hal Leonard Vocal Competition
Programme
FIRST ROUND (with piano)
GEORGE FRIDERIC HANDEL E pur così in un giorno… Piangerò la sorte mia
(Julius Caesar)
GIOACHINO ROSSINI Di piacer mi balza il cor
(The Thieving Magpie) 
FRANCIS POULENC Non, Monsieur mon Mari
(The Breasts of Tiresias)
Sophie Naubert is generously sponsored by Monique Roy