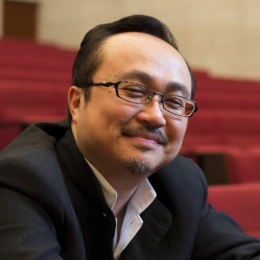 Vietnam/Canada
An outstanding international musician of our time, Vietnamese – Canadian pianist Dang Thai Son was propelled to the forefront of the musical world in October 1980, when he was awarded the Gold Medal at the 10th International Chopin Piano Competition in Warsaw. It was also the first time that a top international competition was won by an Asian pianist.
Since winning the Chopin Competition, his international career has taken him to over forty countries, into such world renowned halls as the Lincoln Center (New York), Barbican Center (London), Salle Pleyel (Paris), Opera House (Sydney), and Suntory Hall (Tokyo). He has played with numerous world-class orchestras such as the BBC Philharmonic, Orchestre de Paris, St-Petersburg Philharmonic, Orchestre Symphonique de Montreal, Warsaw National Philharmonic, NHK Symphony, Russian National Symphony, as well as Virtuosi of Moscow, Vienna Chamber, Royal Swedish Chamber Orchestras, and the Ensemble Orchestral de Paris. Also, he has appeared under the direction of Sir Neville Marriner, Vladimir Ashkenazy, Pinchas Zukerman, Pavvo Jarvi, Frans Brüggen, Vladimir Spivakov, and John Nelson among others.
Other career highlights include a New Year's Day concert (1995) with Yo Yo Ma, Seiji Ozawa, Kathleen Battle, and the late Mstislav Rostropovich, in a major international event produced by the Japanese Broadcasting Corporation NHK. During the 2012-2013 season, Dang Thai Son toured around the world with an ambitious program of all five Beethoven's piano concertos, the Beethoven Marathon. This colossal project was considered the most significant since his winning at the International Chopin Piano Competition in Warsaw in 1980.
Dang Thai Son is frequently invited to give master classes around the world. Since 2001, he teaches as Guest Professor at the Université de Montreal (Canada.) He has sat on the juries of prestigious competitions such as the Warsaw International Chopin Piano Competition, Cleveland (USA), Clara Haskil, Artur Rubinstein (Tel-Aviv), and Sendai (Japan), among others.
Dang Thai Son has recorded for Deutsche Grammophone, Melodya, Polskie Nagrania, CBS Sony, Analekta, Victor JVC, and the Fryderyk Chopin Institute.
Mr. Dang is the winner of the Prix Opus (equivalent of a Grammy Award in Quebec, Canada) in the 2016 "Concert of the Year" category for his concert presented by the Fondation Arte Musica at the Musée de Beaux Arts' Bourgie Hall in Montreal, Canada.