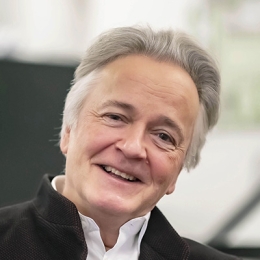 Germany
For decades, Hartmut Höll has been a sought-after piano partner. A feeling for sound, sensitivity, and an ability to think behind the notes to create atmosphere and let emotions be directly experienced through sound timbres characterize his playing. He knows the value of chamber music collaboration and astutely maintains long-term partnerships.
Since 2001 Hartmut Höll has accompanied Renée Fleming in concerts across Europe, Australia, Asia, and North America. For nearly four decades, he has worked closely with Mitsuko Shirai on the lieder repertory. For many years their recitals have been acclaimed throughout Europe and the United States, as well as in Japan, the Middle East and South America. From 1982 to 1992, he was the regular performance partner of legendary baritone Dietrich Fischer-Dieskau, acclaimed in recitals at the Salzburg and Edinburgh Festivals, as well as in Florence, Munich, Berlin, and New York's Carnegie Hall. He has also worked with other singers, such as Christoph Prégardien, Jochen Kowalski, Hermann Prey, Jadwiga Rappé, Peter Schreier, Changyong Liao, and Urszula Kryger.
Hartmut Höll has recorded about sixty discs, many of which have been noticed internationally and received awards such as Diapason d'Or and the German Record Critics' Award. Another close associate has been the viola player Tabea Zimmermann, and they too have made some remarkable recordings.
Hartmut Höll has been a guest professor in Salzburg, Helsinki, Zurich, and Shanghai. He also served as artistic director of the International Hugo Wolf Academy in Stuttgart from 1985 to 2007. Since 2007, he is Rector of the University of Music Karlsruhe, where he also teaches. In 1990 Hartmut Höll was honored with the Robert Schumann Prize of the city of Zwickau. In 2012, his autobiography WordMusic (WortMusik) was published by Staccato Verlag in Düsseldorf, describing his experiences, lied interpretation, and personal memories.

Photo: ARTIS – Uli Deck