Voice 2022: Programs and Canadian works
PROGRAMS AND CANADIAN WORKS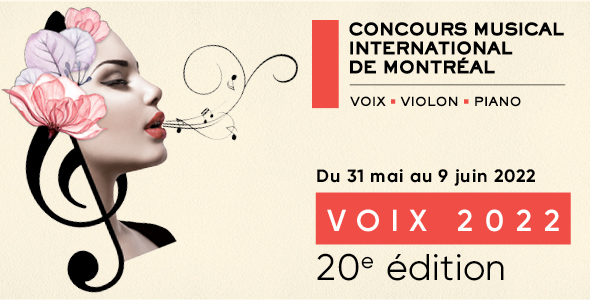 From Handel To Bernstein, Including Works from Schubert to Brahms
Strategy for a Winning Program
From Handel to Bernstein, including works from Schubert and Brahms, our 32 Voice 2022 artists are undeniably strategic in the development of their competition programmes. Learn more about these programs today. 
A good competition programme accurately calibrates the emotional dynamics of each piece, the level of difficulty and the showcasing of the competitors' vocal qualities.  
See how these programmes, without many imposed constraints, demonstrate the artistic personality of each of our participants.   

Art Song Division – André-Bachand Award for the Interpretation of a Canadian Work
The André-Bachand Award, worth $2,000, will be awarded to the competitor in the Art Song division who offers the best interpretation of a Canadian work.    
The CMIM would like to thank Mrs. Claudette Hould for her generosity in allowing us to award this prize to one of our singers. 
Ten of the Art Song competitors have included a work by a Canadian composer in their semi-final program. Voix 2022 will showcase :
• Harriet Burns – Quilled Sonnet by James K. Wright;
• Alexandra Flood – Nuit d'été by Jacques Hétu;
• Deepa Johnny– On Children by John Greer;
• Michael Lafferty – Three Métis Folk Songs by Malcolm Forsyth;
• Monika Mazanka – O, Let Him Kiss Me • I Am Dark but Lovely (Seven Tableaux from the Song of Songs) by Srul Irving Glick;
• Bryan Murray – Requiescat by Matthew Emery;
• Jonah Spungin – Dissidence (Les lions jaunes, Le cri de joie) by Pierre Mercure;
• Zhuohan Sun – Piping Down the Valleys Wild by Oskar Morawetz;
• Meredith Wohlgemuth – Fantaisies dans tous les tons (Rose, Gris, Mauve) by Lionel Daunais;
• Vivian Yau – Hubbards Cove by Tawnie Olson.
*  *  *
Purchase Your Tickets Now!
To encourage the return of the audience after a two-year absence, we have established particularly affordable rates. The CMIM makes a special effort to facilitate access to classical music to younger audiences by offering them an outstanding student rate.
Buy your tickets
More news